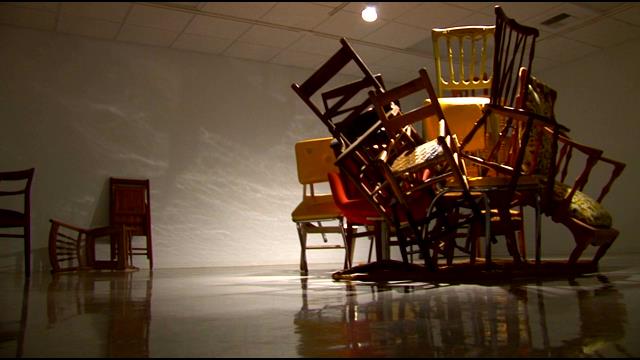 Gathered Coherence was featured on the local Billings News. Read the article and watch the feature here.
2014 Annual MSUB Faculty Exhibition
featuring Jodi Lightner's "Gathered Coherence"
August 28th–September 25th
Reception: Thursday, September 4, 5pm–7pm
MSU Billings Department of Art's Annual Faculty Exhibition opens on August 28 and remains on view through September 25 at the Northcutt Steele Gallery.
An artist reception will be held at the gallery on September 4 from 5-7pm.
This group exhibition presents the diverse talents of faculty working across a broad range of media and features a series of works entitled "Gathered Coherence" by recently hired painting and drawing faculty, Jodi Lightner. Participating artists include: Mark Earnhart, Jill Foote-Hutton, Neil Jussila, David Knobel, Sarah Knobel, Connie Landis, Randi O'Brien, and Markus Urbanik.
Lightner's "Gathered Coherence" explores the emotional valences of familiar forms, such as ropes and chairs, which often mirror human interactions and the ways we gather, connect, and swirl around each. Consisting of a series of scrolled works on Mylar (a translucent film with a matte finish), a sound installation, paintings, and assemblage, the installation offers viewers a space to contemplate the endurance and fragility of the bonds that have held--and continue to hold--us together.
Assistant Professor Jodi Lightner joined the MSUB faculty in 2012. She received her MFA from Wichita State University in 2010 and has exhibited at national and international venues. Her work is represented by Kim Weinberger Fine Art in Kansas City and is held by corporate collections, including Empire Bank.
A gallery talk by Lightner and catered reception for all participating artists will be held on Thursday, September 4 beginning at 5pm. The talk, reception, and exhibition are all free and open to the public.
The Northcutt Steele Gallery is located on the first floor of the Liberal Arts Building on the Montana State University Billings campus. The gallery is open Monday – Friday from 8:00am – 4:00 pm, and by appointment. For more information visit
or
www.facebook.com/northcuttsteelegallery
.
For media inquiries and additional images contact Leanne Gilbertson, Director of Northcutt Steele Gallery,
leanne.gilbertson@msubillings.edu
; (406) 657-2903.
Image
:
Jodi Lightner,
Gathered Coherence,
detail
,
Acrylic and Ink on Mylar, dimensions variable, 2014.